Mehnge Suit mp3 Song Free Download – Nawab Ft Gurlej Akhtar – By Indian Singer Nawab Ft Gurlej Akhtar Music Composed by The Boss, Written By Raana Official Published By Expert Jatt.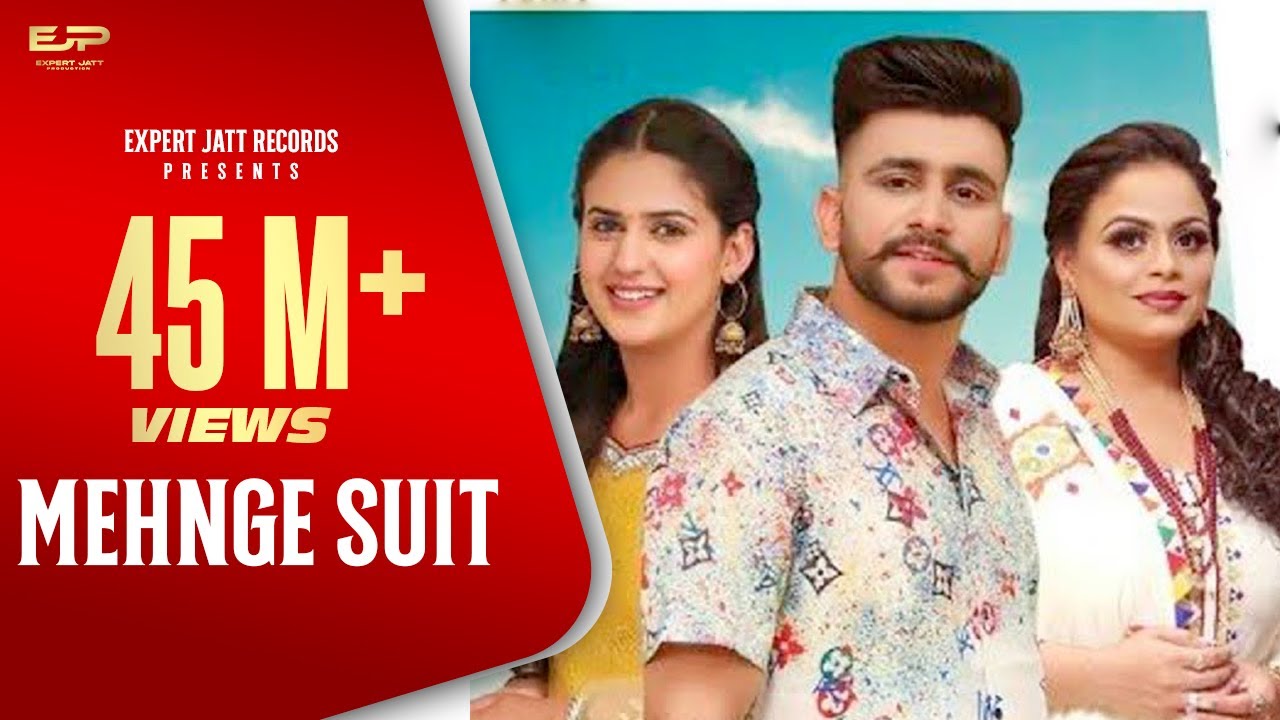 Mehnge Suit mp3 Song Information:
Song – Mehnge Suit
Singer – Nawab ft. Gurlez Akhtar
Instagram -​
Lyrics – Raana
Composer-Raana & The Boss
Female Lead – Pranjal Dahiya
Music – The Boss
Music Arranged – Sounds Squad Studio
Mixed Mastered – Sameer Charegaonkar
Director – Sukh Brar
Asso. Director- Mohit B
Dop – Nishan Singh
Mehnge Suit Video Song – Watch Now!
Mehnge Suit MP3 Song Free Download
Mehnge Suit mp3 Song Lyrics
Katiyar di tu ik laide kangni
Fer jatta tere na karau mangni
Enni vi na kar tu kanjusi mundeya
Eddan naiyo jatti naal life langni
Oh koke ch nagg jaddva deve
Jutti vi kasuri pairi paa deve
Pairi paa deve majaja patti nu
Heavy je dupatte naal jhanjra
Ho ik lainde ve sharara jatti nu
Mehnge suit jachde aa sohniye
Tainu nakhreya naal patti nu
Ve heavy je dupatte naal jhanjra
Ho ik lainde ve sharara jatti nu
Ho area ch puri sardaari sohniye
Gabru ne dekh chade thaari sohniye
Pehla chauk kurta pajama kaala ni
Duja shauk ghode di sawaari sohniye
London da geda vi lava dunga
South hall shopping kara dunga
Pairi kohinoor dharu goriye
Tere fashion tredning aa ch rehnge
Jatt heereya ch madu goriye
Oh chakva style mera att ve
Match tere naal karu sohneya
Tere fashion tredning aa ch rehnge
Jatt heereya ch, heereya ch
Oh tom ford kardi ae suit face te
Lakh lakh de main laavan shade ve
Red rose wargi beauty vekh k
Vyaparia de digg de trade ne
Oh nehro paar bangla paavan de ve
Sone dia choodia chada de ve<
Ho fir dekhi husna di hatti nu
Heavy je dupatte naal jhanjra
Ho ik lainde ve sharara jatti nu
Mehnge suit jachde aa sohniye
Tainu nakhreya naal patti nu
Ve heavy je dupatte naal jhanjra
Ho ik lainde tu sharara jatti nu
Ki nikkia tu cheeza di demand kardi
Landlord pind de purane aa
Ve heartbeat chalde repeat te
Ve main sundi nawab tere gaane aa
Nain dove bhaare ne sharaab de
Bull tere phull ju gulaab de
Care husna di karu goriye
Tere fashion trednina aa ch rehnge
Jatt heereya ch madu goriye
Ha chakva style mera att ve
Match tere naal karu sohneya
Tere fashion tredning aa ch rehnge
Jatt heereya ch madu goriye
Haa paris de kanna ch jo paaye jhumke
Maare karde miami tak marjaaneya
Ve chaar note mere utto vaar ta sahi
Aa gallan naal saarda ae tu ta raaneya
Raana gold da koka tainu paauga
Gulabi rang te gulabi note laauga
Mull nakhre da bharu goriye
Tere fashion tredning aa ch rehnge
Jatt heereya ch madu goriye
Ha chakva style mera att ve
Match tere naal karu sohneya
Searching Keywords:
Mehnge Suit MP3 Song mp3 song free download
Mehnge Suit MP3 Song mp3 song download
Mehnge Suit MP3 Song song download
Mehnge Suit MP3 Song song free download
Mehnge Suit MP3 Song mp3 song
Mehnge Suit MP3 Song song